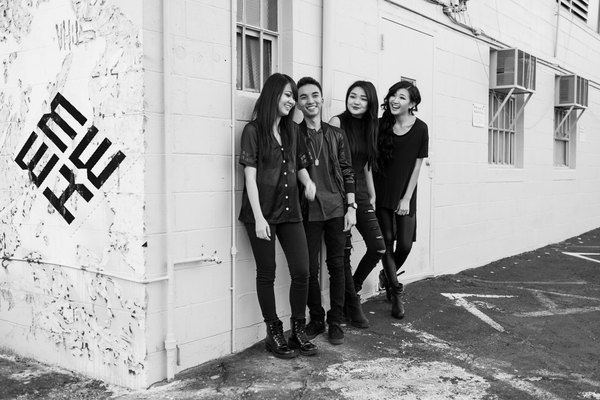 "EMKE is amazing - they blow me away every time I see them play live or hear one of their recorded songs. EMKE explodes with energy, passion and top-notch musicianship. Their professionalism is impressive for players of their young age, and they have a huge, bright future ahead of them. Star 101.9 FM is proud to feature EMKE on our weekly Unsigned Hawaii radio show."
Kevin Jones - Promotions Director, All Stations • Star 101.9 FM On Air • Clear Channel Media + Entertainment of Hawaii • KSSK AM/FM – Island 98.5 FM – Star 101.9 FM – 93.9 FM JAMZ – KHVH AM – KIKI AM
---
".... part of EMKE's sound is decidedly retro, and when they power up a song, like their original Too Late, the modern melodic hard rock projects sophistication beyond their years."
Dave Lawrence - HPR host of NPR's All Things Considered • KHPR 88.1 Honolulu - KIPO 89.3 Honolulu
---
While on vacation in Hawaii, my wife and I discovered this awesome band with a refreshingly new sound... EMKE had us mesmerized. Stage presence that commanded the audience and talent bursting from every angle!
Mo Bounce - Z100 New York • radio personality and international voice over artist hosting 6-10PM weeknights
I've been a fan of EMKE ever since I saw them on YouTube. Here were these cute little kids opening for Kansas! They rocked it! They're all grown up now, and rocking it even harder. EMKE's EP "Promises and Expectations" showcases their talent and years of hard work. My favorites are the power ballads, "Open Eyes" and "Last Tonight". EMKE rocks!
Vance K - DJ radio personality for 76.1 InterFM Tokyo • 84.7 FM Yokohama
---
"The entertainment industry is full of children who get by on cuteness.... but don't write them (EMKE) off as kiddie rock or a novelty act. The members are younger than most bands on the local scene, but they're not kids playing at being a rock band. They can rock hard. This collection (EP) of originals shows they have talent and potential as writers as well."
John Berger - Honolulu's veteran scene reporter, music reviewer and premier theater critic for the Honolulu Star Advertiser